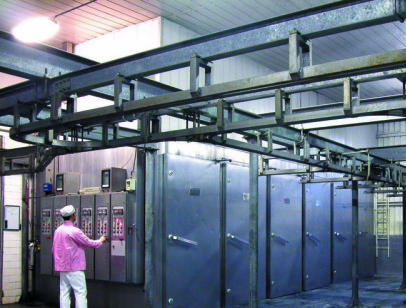 The production techniques do not only concern the use of technologies in the plants but they also include the ability to use the climatic factors, the choice of possible cooking methods and the process of salting. The great knowledge of the market allowed the BOGGIANI & LOCATELLI cured pork meat factory to find the right balance between the use of modern technology and the traditional methods of processing. Innovative methods and highly qualified staff are constantly working to ensure the integrity of the processing system.
In particular, attention is focused on the following aspects:
– Ensure supply of quality meat
– Processing products in controlled rooms and traditional recipes, but in line with the production standards required by the market.
– Get a final result of high quality thanks to the contiguous arrangement of the various departments that allows to keep meats always fresh,
– Continuous checks on the hygiene of the transformation processes and the environment.